Adding a water feature brings a whole new sensory experience
The soothing sounds of a fountain can fill any yard with life and movement. Fountains also support the local ecosystem by attracting more birds than still water while transforming any property into a peaceful retreat. Every garden can benefit from a fountain or water feature which adds ambience in nearly any setting. A well-placed fountain can also serve as a focal point in a front yard, plaza or courtyard.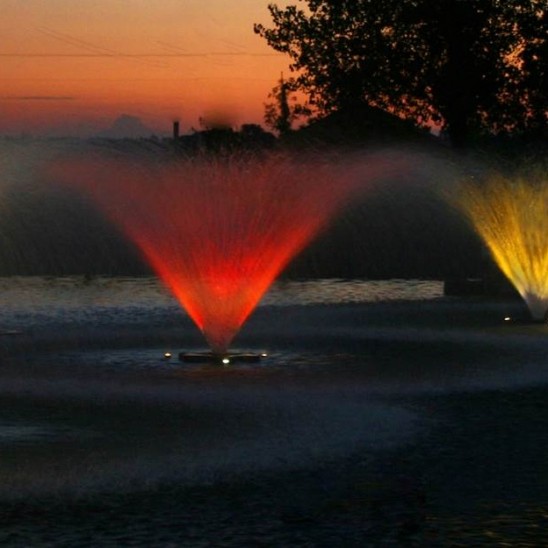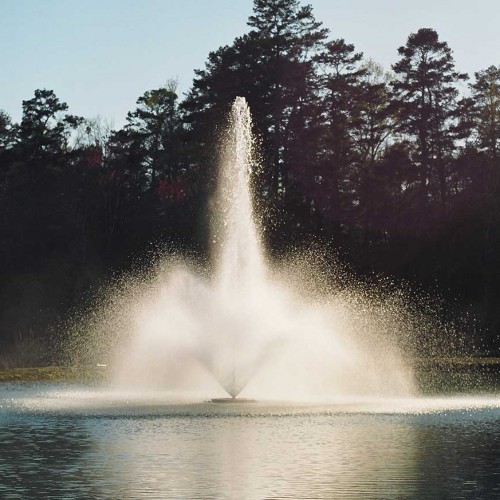 Kasco J Series Aerating Fountains
For over 45 years, Kasco has been supplying product that is dependable, affordable and efficient. Our customer-focused philosophy ensures that you get superior performance at a great value. Kasco J-Series Aerating Fountains improve the overall water quality of your pond, while enhancing its appearance with interchangeable spray patterns — included in the fountain price!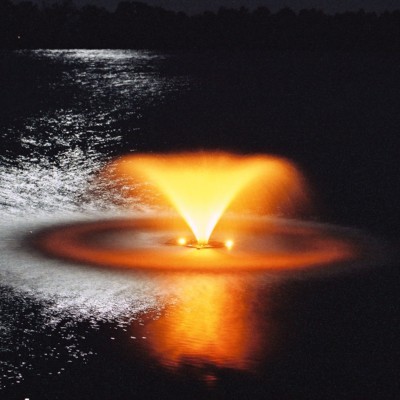 Kasco Lighted Floating Fountain
Ideal for ponds up to 1/5 acre. Decorate small water gardens and reflection pools, or enhance large ponds with a stunning center display. Fountain is fully assembled for simple 'plug and go' installation. Floating fountains require just 12" of water. 1/4 HP motor draws only 3.1 amps at 120 volts; LED light ring draws <12 watts and is rated for up to 100,000 hours. Fountain includes two 15' black polyethylene mooring lines, 50' power cord, and control panel with timer, Ground Fault Interrupter, and photo-eye for lights. Five interchangeable nozzles are included to create 5 unique spray patterns. There is no comparable product on the market. For more than 45 years, Kasco has manufactured top quality aeration products. ETL approved to UL and CSA standards as a complete package, not just the motor. Includes a one-year limited warranty.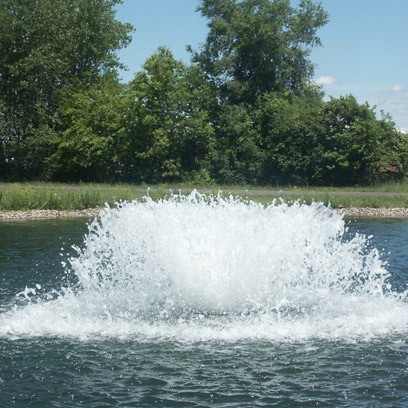 Kasco Pond Aerators
Kasco pond aerators (also called high oxygen transfer units) are designed to withstand the rigors of commercial aquaculture operations, industrial applications, and municipal waste water plants. With more vertical-pump-type aerators in use in North America than any other manufacturer, Kasco is the clear market leader in products proven to deliver outstanding performance and reliability. Kasco pond aerators dramatically agitate high volumes of water at the surface to maximize exposure of water to the air for valuable gas exchange, greatly improving your pond or lake aeration.
Local Service, National Resources
Heritage Landscape Supply Group is the best network of independent landscape supply distributors in the US, united by a shared vision to provide exceptional customer service, to carry the best products from top manufacturers, and to help every customer grow their business.